Old Fashioned Handmade Sponge Toffee
Chocolate
Sponge Toffee

Dipped in a delicious blend of chocolate! (110g)
Minimum order: 50

---

Sponge Toffee Table top & Floor Stands are available.



---

Jumbo Sponge Toffee (100g)

Minimum order: 50

---









​Sponge Toffee One Pound
​Sponge Toffee Lovers Only!

Minimum order: 12

---

MIXED CASE
Sponge Toffee & Chocolate Dipped Sponge Toffee
(1/2 & 1/2 case)
Minimum Order: 50

---
Wiggle'iscious Jelly Sticks
Just plain fun!
Old Fashioned Handmade Gourmet Candy Apples
Cinnamon
Cotton Candy
Bubble Gum

Grape

​Cherry

​Other colors and flavors available



Minimum order: 24

---
Old Fashioned Handmade
​Gourmet Flavored Lollipops
Lollipop Flavors:
Apple, Blueberry, Black Cherry, Black Raspberry, Black Licorice, Bubble Gum, Butterscotch, Cherry, Cinnamon, Cotton Candy, Grape, Passion Fruit, Tutti-Frutti, Tropical Punch, Orange, Raspberry, Root Beer, Strawberry, Watermelon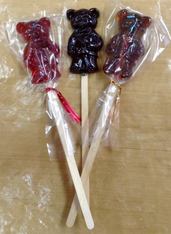 Honey Bear
Made with 100% organic CANADIAN honey!
Blueberry, Raspberry & Original

Minimum Order: 36


---
Spring
Critters
Sports & Vehicles
"OH Canada" Maple Leafs
Jumbo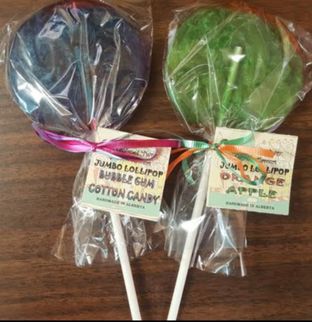 Jumbo Two Flavor
Bubble Gum/Cotton Candy
Grape/Cherry, Raspberry/Lemon
Pineaple/Peach, Rootbeer Float,
Orange Creamcicle, Pink Lemonade, Orange/Apple

Minimum Order: 24

​New: White Chocolate top with sprinkled

Custom Shapes and Orders are welcome!

---
Pencil Lollipops
Christmas & Halloween
Old Fashioned Handmade
Rock Candy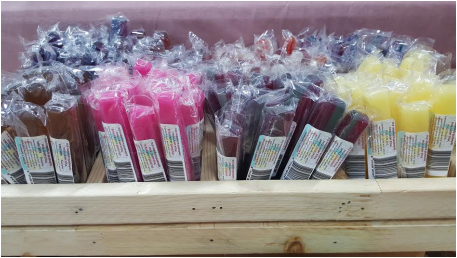 JUMBO Rock Candy Sticks 80 grams
Minimum Order: 200 Flavors come in packs of 20- Choose 10

Smoothie Flavors: Raspberry Smoothie, Orange Smoothie,
Strawberry Smoothie, Blueberry Smoothie, Vanilla Smoothie

Duo Flavors: Bubblegum/Cotton Candy, Grape/Cherry, Strawberry/Blueberry, Apple/Cinnamon, Root beer/float, Raspberry/Lemon, Orange/Apple, Cherry/Cola

Tangy Flavors: Tangy Apple, Tangy Cherry, Tangy Orange,
Tangy Lemon, Tangy Grape

Other Popular Flavors: Butterscotch, Cola, Black Cherry, Black Licorice,
Hot Cinnamon, Root Beer, Pina Colada, Lemonade, Vanilla, Watermelon,
Cappuccino, Horehound, Paradise Peach and Pomegranate
---

Coal Candy
In a gold metallic pouch!
30 grams

Minimum order: 24 bags



---